Info session: direct mission to South Africa will take place from 31 October to 4 November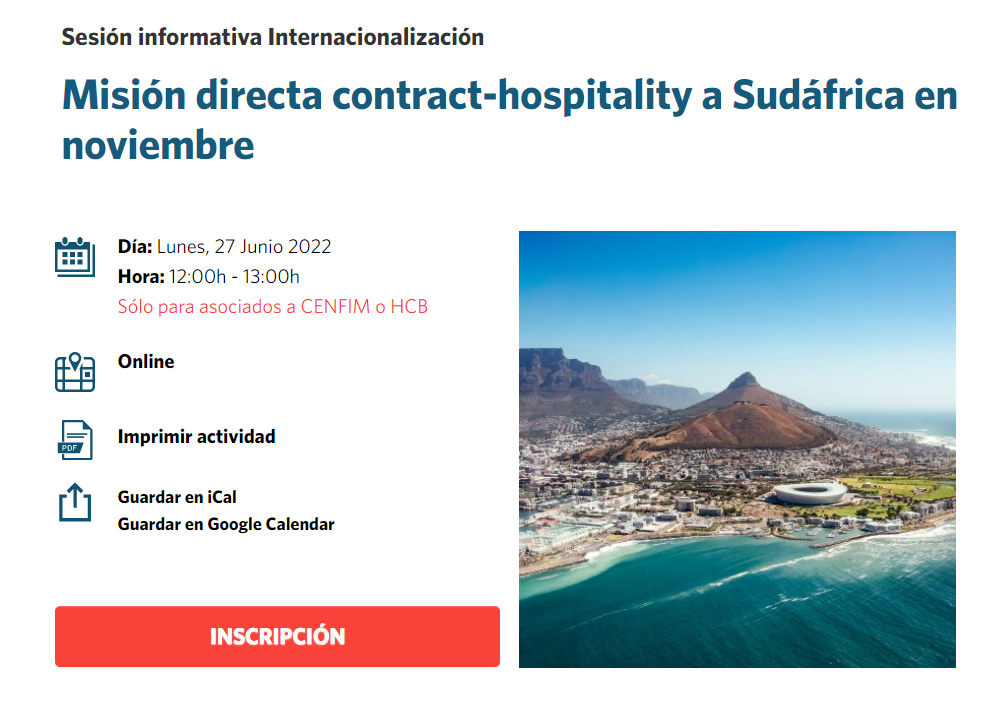 CENFIM (Spain) organises on 27th June an online info session for SME interested to join the South Africa direct mission. Organised by WellianceHOSPITALITY, the mission will take place from 31st October until 4th November.
South Africa is an exotic tourist destination with a good projection for tourism growth. The Anglo-Saxon influence makes it easier for local companies to do business with European companies, which consolidates South Africa as the most modern economy in Africa. In addition, it has recently established itself as one of the decision-making centres for hospitality projects on the African continent.
CENFIM is organising a direct mission to South Africa (31 October – 04 November), with B2B events with specifiers and hotel groups, benchmarking visits and meetings with local institutions. Participating companies will receive financial support to compensate travel and accommodation expenses through the European project WellianceHOSPITALITY which is led by CENFIM and in the framework of which the activity takes place.
PROGRAMME OF THE INFO SESSION
12:00 Contract hospitality opportunities in South Africa, Heiko Voigts, International Business Consultant at SME Market Connect
12:15 Direct mission programme and Support to participating companies through WellianceHOSPITALITY , Toni Zaragoza (Marketing & Internationalisation manager at CENFIM)
12:30h
Questions from the audience and conclusions
Contact: Toni Zaragoza / antoni.zaragoza@cenfim.org / +34 648 743 312
You can register by clicking here
If you would like to export to the USA, Mexico or South Africa, join one of the participating clusters CENFIM (Spain), Calatan Water Partnership (Spain), LUMIERE (France), Umweltcluster Bayern (Germany) and CAP Construction (Belgium) and to add your company profile to the catalogue under the condition that they fulfil the Welliance criteria. To know more, contact info@welliancehospitality.eu
Don't hesitate to subscribe to the newsletter and to our Linked-IN Group so you can be the first one to register to the direct missions!